The next two novels in my Alpine Grove series are in production now and will be released this summer. If you want to be notified when they come out, please sign up for my New Releases list. (As an aside, I do usually offer new releases at a lower price…like a lot lower.)
Book 6, Howl at the Loon is with beta readers, so it should be released in July. Book 7 The Good, the Bad, and the Pugly just came back from my alpha reader and I'm revising it in preparation to send off to my beta readers. So I'm hoping it will be out in August. Without further ado, here are the blurbs and covers for both books.
Howl at the Loon
An Alpine Grove Romantic Comedy, Book 6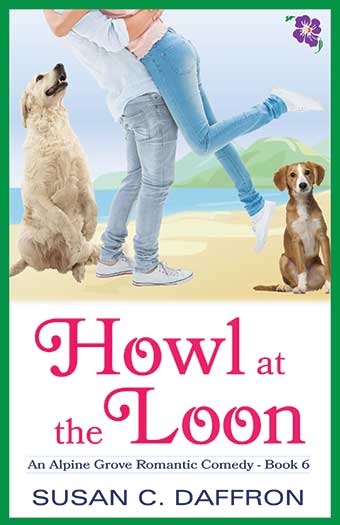 Description
For Robin Saunders, her new job and the employee discount at the Eagle River catalog is great for her closet, but bad for her wallet. Mostly, she deals with purchase orders and merchandise lists, so she can't figure why the CEO selects her to set up a corporate retreat at his family lodge in the small town of Alpine Grove.
When she arrives, Robin discovers that the North Fork Lodge is falling apart, the owner is missing, and the team building guy has a Batman fixation. Mediating employee disputes and dispelling local rumors about a cranky resident ghost put Robin's diplomatic skills to the test. Alec Montgomery, yanked from the executive suite and tasked with doing training, isn't any happier than Robin about being in Alpine Grove. Yet together they uncover mysteries about the lodge and themselves that they never anticipated.
The Good, the Bad, and the Pugly
An Alpine Grove Romantic Comedy, Book 7
Description
After a freak shopping cart accident, Brigid Fitzpatrick takes stock of her life and wonders what happened. Determined to reinvent herself, Brigid sells off everything and rents a cottage in the small town of Alpine Grove. Thanks to her military widow's pension, she can take a much-needed summer vacation.
Armed with piles of self-improvement books, Brigid sets out to rebuild her life. When she adopts a sweet little dog named Gypsy, Brigid finds out Gypsy isn't the only homeless dog in Alpine Grove. Compelled to help animals with nowhere to go, Brigid forges a plan when compassionate horse trainer, Clayton Hadley agrees to help. Forced to face deep-seated fears, Brigid finds herself intrigued by Clay's uncanny insights. Plus, how often do you get to meet a real life cowboy?
More Alpine Grove?
And yes, in case you're wondering, I do have an idea for book 8. I am figuring out the characters and outline now, and will start writing the first draft in July. So stay tuned 🙂