If you're one of the special few who may have visited SusanDaffron.com in the past, you may have noticed that my site looks a little different now.
For one thing now it's a blog. For another thing, it now contains pretty much everything I've ever written. So instead of being a 6-page HTML site, it's a 2,000 page (?) WordPress author site with tons of categories and plug ins.
For the slightly geeky among you, here's what's behind SusanDaffron.com
<nerd alert on>
WordPress running the Genesis framework and the Prose theme and an bunch of plug ins, including:
Genesis eNews extended
Genesis Layout extras
Genesis Prose Extras
Genesis Responsive Header
Genesis Responsive Slider
Genesis Layout extras
Genesis Simple Breadcrumbs
Genesis Simple Edits
Blog ML Importer
HTML Import 2
WordPress Importer (used after writing a custom export from another content management system)
Simple Social Icons
Broken Link Checker
Search and replace plug-ins
A contact form plug-in
</nerd alert off>
The great migration came about because our old server that hosted our many Web sites (named Bullet) finally died. It wasn't really an untimely death, since it was old.  But there really isn't a good time for all of your Web sites to go down.
Be prepared to die
Fortunately, the nice folks at our hosting company warned us that Bullet was feeling sick. So we were in the process of moving content off of the machine before we went on a 1,800 mile road trip. Because servers seem to intuitively know about Murphy's Law, Bullet decided that while we were somewhere in deepest Utah would be a fine time to die permanently.
Being at a Motel 6 in the middle of nowhere and discovering you have no email or Web sites is not a happy feeling. But we got over it. Road trips are good in that respect. You just have to keep driving.
After years of depending on the Internet for our livelihood, in a way it was sort of liberating to have NO web presence for a while. It probably confused quite a few spammers too. (What a shame.)
Lessons learned
Many years ago, I used an early version of WordPress and hated it. I've already done one export of content out of a WordPress blog and I hope to never go through that again. I'm pleased to report that my experience this time bringing content INTO WordPress has been far better. Here are a few things I learned:
Selecting the Prose theme was a good idea. To say I don't want to hack around in CSS or PHP would be an understatement. I have only two or three custom code entries, which makes me happy.
Recent versions of WordPress have new menu features. Thank goodness. I can't even express how awful it was creating menus for another WordPress site using a different template. Now you can create menus from categories, which is how I organized my content. Very cool.
If you want a responsive header, you have to spend a lot of time in Photoshop, playing with multiple files of different sizes. Since I don't have (and don't want) a smart phone, I'll just have to hope it works.
If you want a "widgeted home page" so you can use the responsive slider, you have to change your site to NOT be set to use a static page for the home page. It has to be set to show posts, even if you aren't including posts, which seems counter-intuitive. Nowhere online does anyone mention that little factoid.
I needed to create a Content Site Archive page. To link to the listing of articles by category on a page, you can create a custom menu, put it on your site temporarily to figure out the URLs, then just paste those links into the page.  This tip may seem obvious, but it really wasn't. If I used a shortcode, I couldn't get any next/previous links without doing some hideous custom coding, which was irritating and so not going to happen.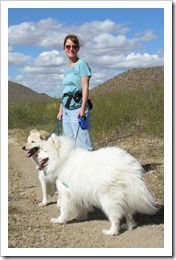 I also redid the LogicalExpressions.com site, which now has information about all our books and nothing else. So all of the book web sites point to custom sections on the LE site. That involved creating a lot of custom graphics and like this site, it's still a long way from done.
But after a few weeks of active geeking, at least most things are put back together and I can definitely get email anyway. And that's good news for the fuzzy white dogs who really wanted to go out for a hike after all that time on the road