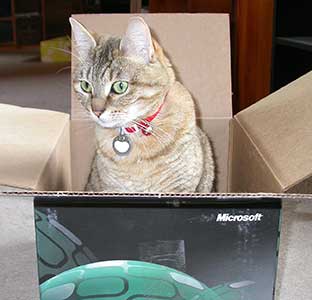 Cats play pivotal roles in Chez Stinky, which is a romantic comedy about a woman who inherits a house that comes with a number of furry occupants: four dogs and five cats.
First off, the main character is named Kat, which is short for Katherine and not related to the fact she owns a cat. Even before she inherits the house, she shares her life with Murphee, a cat she adopted when Murphee was just a tiny kitten.
Many authors create personality profiles for their characters. Since animals play significant roles in my books, I also create profile for the pets in the story. Here's the one I have for Murphee in my notes:
Physical Description: Black and white "tuxedo" cat. Originally thought to be male, but there was a big discovery during her neuter surgery. Oops. Kat changed the spelling of her name from Murphy to Murphee to make it more feminine.
Personality: Likes to talk things over. Loud and in charge.
Background: Stray kitten that Kat found behind a dumpster behind her condo complex.
Internal Conflicts: When is it time to be fed?
External Conflicts: Thinks Kat works too much.
Tabby Troubles
Some of the other cats I can only mention in passing here because I don't want to reveal any spoilers. But a three-legged gray and white tabby named Tripod is instrumental in causing my two main characters to meet one another.
Dolly Mae is a long-haired brown tabby cat, who probably has some Maine coon in her. She ends up causing a bit of mayhem during a few scenes because she has an unfortunate habit of being in the wrong place at the wrong time.
Several other cats make appearances, but you'll just have to read the book to find out more. And if you're more of an equal opportunity pet person, you'll enjoy meeting some pretty cool dogs too!