Today we went to take our dogs out for their daily constitutional and discovered that the snow finally came off our woodshed. It hasn't shed all winter and we were a little worried, particularly since over the last few days, there has been a really long snow curl hanging off the back that refused to break off. Imagine our surprise to discover that all the snow fell off at once in a giant chunk. We were so shocked we just kind of stood there for a minute staring at it. (The dogs started barking , since the giant snow wall was blocking the trail into the forest, which they found offensive.)
This is what 6-feet of snow from a roof looks like when it goes vertical (click for larger versions).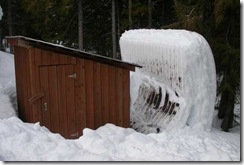 And from the other side: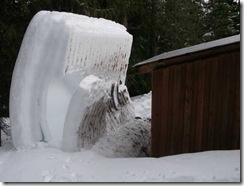 You can see that the snow striations are not going to hold up for long. (Yeah, we ran inside to get our camera, since this is just too weird!)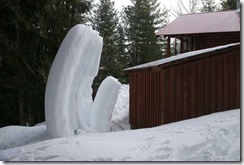 And from the back: behold, the great wall of snow!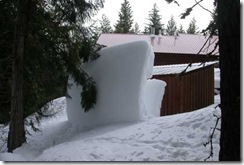 Needless to say, I am SO ready for spring.