In the last few years, the local real estate market has exploded, then imploded. This recent interest is not the first time the real estate market has been "hot." Like everything else, it's cyclical with boom and bust cycles. Every few years, we see lines of U-hauls going back across the Long Bridge out of town.
Here are a few hints for reading the real estate listings in a local area. Like many small towns, Sandpoint has only a few subdivisions, so most dwellings are some type of custom-built home. It makes the homes more difficult to appraise or to discover any "tragic flaws."
When you look at real estate, always consider that it snows here. Look at the rooflines. Where will the snow fall? You don't want a house that you can't get into because the snow sheds in front of the door. In town, many of the houses are old, so they may have strange electrical wiring and plumbing. Out in the boonies, you may find eclectic "owner-built" houses assembled by hippies during the 70s "back to the land" movement.
When it comes to building, regulations are few. This area abolished its building department in 1997 and contractor registration was just enacted in Idaho in 2006. The bottom line is: buyer beware. When in doubt, get an expert you trust to look at the property before you commit to anything.
Real Estate Terms Defined
After witnessing the vagaries of the real estate market for many years, this glossary is our somewhat tongue-in-cheek guide to interpreting local real-estate listings.
Private = you will need 4 wheel drive to get home
Remote = you can't get there 6 months out of the year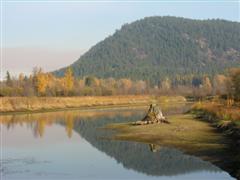 Waterfront home in town! – Say goodbye to $1M
Price reduced = We overpriced it to try and fleece some out-of-towners and nobody took the bait
Convenient in-town living = Watch out for cow trucks when you cross the street
Premiere = Expensive
Classic = Expensive
Exclusive = Expensive
Power and phone to lot = power and phone are not to where the home site is
Charming = small, probably old
Creek frontage = beware the floodwaters
Fixer upper or take down = opt for the latter
Private road = buy a tractor
Vintage = old, probably needs restoration
Partially fenced = the rest of the fence fell down
Fixer-upper cabin = shack
Unfinished cabin = shack
Quaint = small
Rustic = Falling apart
Rustic cabin = Decomposing shack
Income property = previously a rental; now a dump
Parked out = logged
Seasonal creek = trickle most of the year, except in spring when it floods
Seasonal pond = swamp with bird-sized mosquitoes
Old Farmhouse = no insulation
Owner-built = by someone with no construction experience
Mini-farm = has an outbuilding