In addition to being an award-winning book author, Susan Daffron has written more than 70 articles that have appeared in national magazines.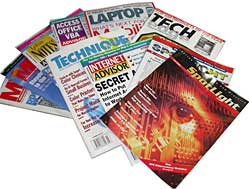 She also has written more than 200 newspaper articles, approximately 1,500 online articles, web copy, autoresponders, newsletters, and courseware for online training classes.
Writing Credits
A list of writing credits appears below. Many of the print articles are restricted by copyright, so we can't publish copies here. You may be able to find some articles in the archives on the magazine sites that have links below.
Online Content
Logical Expressions – A total of approximately 1,500 articles and blog posts, including:

For 3 years, wrote weekly Publishize newsletter. Past newsletter articles (300+) are archived here along with new articles, which are posted regularly.
Wrote twice-monthly newsletter and blog posts for the National Association of Pet Rescue Professionals.
Wrote blog posts for the Self-Publishers Online Conference
Created multiple training courses about self-publishing for SelfPubU, author training site.
Contributed articles to Computor Companion magazine (archived here).
For 5 years, wrote weekly Logical Tips ezine (approximately 400 tips, most of which are archived here).
For 3 years, wrote twice-monthly Pet Tails ezine (300+ articles archived on this site)
For 2 years, wrote weekly Sandpoint Insider ezine (some articles archived on this site).

Write marketing materials for IBM Web site and printed collateral. (See project page)
Contributed Letter from the President for monthly SPAWNews newsletter and wrote a number of articles for the SPAWN Web site. (See project page)
Wrote guest posts for numerous writing and entrepreneur-related Web sites, including Copyblogger.
Education to Go – Wrote and taught online courses that are available at 1,400 colleges. Introduction to Quark XPress for
the PC and Introduction to Quark XPress for the Macintosh. Each is an approximately 60,000 word training course with 12 Lessons of 5 chapters each along with FAQ, supplementary material, quizzes, pretests, and final exam.
Publications International – Wrote product reviews for PDAs, PDA accessories, scanners, and image editing software for the Consumer Guide Best Buys Web Site (www.consumerguide.com).
Rochester Initiative – For four years, wrote the twice-monthly Intelligencer online newsletter which was e-mailed to approximately 40,000 IT managers.
Wimpy Player -Rewrote approximately 50 pages of help and sales copy for a Web site for a product that lets you put streaming media on your Web site.
Magazine & Newsletter Articles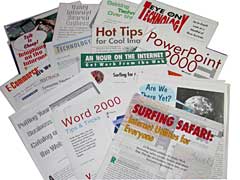 Touchpoint Communications
Group – Newsletter articles for quarterly Graphic Advisor and Egram e-mail newsletter,
which are targeted towards people in the graphic design and printing industry.
Association of Executive and Administrative Professionals – Wrote two computer articles and one computing "Help Desk" column for monthly Executary newsletter.
Life Association News, Technology Bytes Column (monthly column). Topics: "Choosing the Right PC," "Laptops, Storage and Travel," "Upgrading: For Better or Worse," "The Web and Insurance Fraud," "Laptops and Presentations," "The Year 2000 Problem," "Spread the Word," "Typing at the Speed of Light," "Under $1,000 PCs–Such a Deal?" "Clean and Simple Storage," "Backing Up Murphy's Law," "Laptop Computer Security," "When Technology Bites Back," "High Tech Copilots."
Bedford Communications (Laptop Buyer's Guide, Computer Buyer's Guide, TechEdge) Articles: "Photo Retouching Tips," "CD Labeling Software," "Desktop Publishing Tips," "Image Editing Tips," "PowerPoint Tips," "Word Tips," "Presentation Software," "Maximizer
6.0," "Harvard Publisher," "Page Layout Software," "Disaster Recovery," "45 Productivity Tools," "Corel 8," "E-Commerce–Are We There Yet?," "Time & Billing Software," "Telephony on the Internet," "Getting Tech Support Over the Web," "Utilities to Make Web Browsing Safer, Easier, Faster And More Fun," "Using Internet Search Engines," "Norton Your Eyes Only," "Using the Internet to Work from Home," "Choosing an ISP," "An Hour on the Internet," "How to Put your Catalog on the Web," "Internet Utilities," "Making Travel Arrangements on the Web."
Advisor Publications – Articles: Internet Advisor "The Digital Travel Agent," Lotus Notes Advisor "If Only Your Application Could Speak," Visual Basic/Access Advisor "Are You Prepared for a Disaster?"
Baseline Logic – Ghostwrote case study article for client to submit to industry trade magazine.
Technique Magazine – Articles: "Designing with Templates," "Managing Computer Files," "Managing Time," "Software for Small Business"
Midrange Computing – Articles: "AS/400 Automated Fax Systems," "Systems Design and Development's TCM/400," "Product Spotlight: GUI/400," "Redmond Technologies' Extend/VCR"
GAMA International – Article: "Leadership Heroes Contest Winners"
Newspaper Columns
Spokesman Review (Spokane, Washington), Computer columns 2006 – 2007. These columns also were part of the Logical Tips newsletter and some are now archived on this site.
"Street Level" Columns. Susan was on the Spokesman Review "Board of Contributors" and wrote a number of columns: Middle of Nowhere, hang a left and there we are, Cutting-edge kitty's hangout a PC play land, My life, computers — full system integration, North Idaho is going to the wrong type of dogs, Home is where the heart of my business is. Your Turn Column: No-shows, the undependable often suffer business failures
North Idaho News Network (Northern Idaho area, including Coeur d'Alene Press, Post Falls, and Sandpoint newspapers):
Weekly "Tales from the Mousepad" columns. The column began running Feb 11, 2001 and generally appeared on Sundays until it moved to the Spokesman Review in 2006 (see above). It was also available as part of the Logical Tips newsletter and many columns are now archived here.
The River Journal (Sandpoint, Idaho), "Pet Tails" Columns October 2002 – 2007. Because so many people lamented the loss when Susan Daffron stopped writing about pets in the local newspaper, the River Journal picked it up. The column was also available at the Pet Tails site and is now archived here in the pet section. In late 2006 the River Journal also started running Susan's Web Business column.
Bonner County Daily Bee (Sandpoint, Idaho), "Pet Tails" Columns. Ran from April 1998 – June 2000. Pet care articles focusing on pets adopted from animal shelters (see above).