Susan Daffron did the interior layout and cover design multiple books by Kelly Epperson. The first is called 365 Days of Joy: How to be Happy Every Single Day by Kelly Epperson. Kelly had worked with another designer first, gave up, and came to us.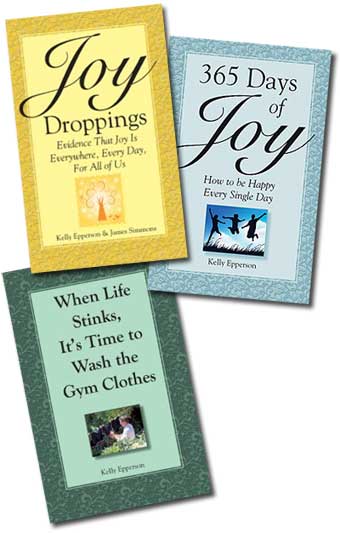 Then she asked Susan to redo the cover for the second printing of her second book When Life Stinks, It's Time To Wash The Gym Clothes and asked her to add some small changes to the interior file.
Susan also laid out the cover and interior of Kelly's third book Joy Droppings: Evidence That Joy Is Everywhere, Every Day, For All of Us.
Client Comments:
"How do I love thee? Let me count the ways! Susan Daffron of Logical Expressions rescued me from frustration, fear, and freaking out. I had a manuscript, a Word doc, that Susan transformed into a Real Book. The layout, the book cover she designed, her promptness and professionalism/sense of fun were exactly what I needed. Her experience and knowledge are remarkable. She is a consumate pro, plain and simple; she is also friendly, real, and an utter delight to work with.
Whatever your project is, she can do it. I call her the Book Fairy. She works magic!"
     ~ Kelly Epperson, author, 365 Days of Joy
Involvement: Interior book design and cover design
Software: Adobe InDesign, Illustrator, and Photoshop.
Client: Kelly Epperson