This page has outlines for a few topics Susan can speak on.
The 7 Habits of Highly Effective Fundraisers
It's time to get business minded! Join Susan Daffron, founder of the National Association of Pet Rescue Professionals for a full session on money matters. You'll learn: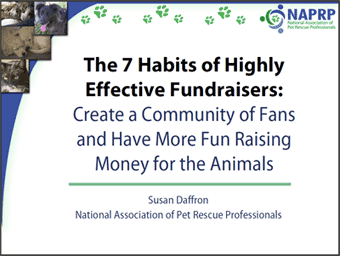 What a money mindset is
How to apply marketing principles to your organization
How to distingish it from other organizations in the public eye
How to do productive planning
How to create win-win partnerships
You'll also get tips on budgeting for those big fundraising events too!
Here are a few of the comment Susan received on the conference evaluations when she did this presentation at the Best Friends No More Homeless Pets Conference:
"Very creative ideas that I'm going to steal"
"Great methodology and ideas; gained road map and value plan to replace our hap hazard approach"
"Excellent and entertaining"
"Great info. These are strategies that can be used immediately"
"Great speaker"
"Excellent speaker. Very Interesting and great content"
"Susan was fun and had good ideas"
Turn Your Blog Into a Book
If you saw the movie Julie and Julia, you probably have dreamed of being "discovered" by a Big Book Publisher. But the odds of some mythical publishing honcho running across your blog and offering you a huge advance are slim to none. There is another option however. Take all that fantastic content you've already written and turn it into a book yourself. Join Susan Daffron as she explains how you can turn your blog into a book the RIGHT way.
You'll learn:
How Susan has "recycled" almost everything they've ever written into 10 books that are providing a nice monthly income stream.
How creating passive income can help you weather ANY economic climate.
Why a bunch of cobbled together blog posts doth not a good book make.
The vital importance of editing and quality production to the success of your finished book. (Thanks to excellent editing and layout, our books win publishing awards.)
How to write strategically, so everything you write can be repurposed from online to print, and beyond.
Don't wait to turn your publishing dreams into reality! Learn how easy and affordable it is repurpose your writing into a high-quality book.
Why Becoming a Book Author Can Change Your Life
Imagine being the author of your own book. Imagine taking your book out of your briefcase after a meeting, signing it, and handing it over to a prospective client. Think what his reaction will be. People view book authors differently. Your book can open many doors for you!
Susan is the author of 11 books, 10 of which she self-published over the past several years. Susan will discuss how you can use your book to:
Reach more people with your message
Establish your expertise
Attract more clients
Make it possible for you to charge higher fees
Create a passive income stream
Enjoy more opportunities for publicity
Attract potential partnerships and joint ventures.
Largely because of her books, Susan has watched her visibility as an entrepreneur skyrocket. She has been interviewed countless times, partipated at conferences, been featured in an article in an extremely high circulation (1M+) magazine, started a national association, and completely transformed her business.
All of these changes started with one simple step: the desire to become a published author.
Get Your Book Done!
If you're one of those people who has tried turning your dream book into a reality — and months later STILL has not succeeded — you aren't alone. Many people struggle with writing, but you can learn a few "tricks of the trade" with an inspiring call conducted by writing and publishing expert Susan Daffron.
Susan offers several ways you can jump-start your book even when you've hit a roadblock.
You'll learn:
How to recognize when "writer's block" is really something else, and what to do to get past it.
Tips for "recycling" information you may have overlooked. (Countless gems live in file cabinets and hard disks in every office!)
Ways to tame the enemy of all writers: procrastination.
Why envisioning your reader can suddenly make your writing seem effortless.
How to know when it's time to get outside help with your writing.
The author of 11 books, Susan has more than 15 years of professional writing experience, and she gives you her best tips from the trenches.
How One Woman Published 8 Books in Less Than 18 Months
Various surveys have shown that 80% of people want to write a book, yet most people never get beyond dreaming about being a published author. Susan Daffron explains how she self published 8 books in less than 18 months without using a ghostwriter. (In fact, she did almost all of the work herself!)
You'll learn:
How Susan got beyond her big "stuckness" on two book projects that had been languishing in old discarded Word files for literally years.
How to find and repurpose writing you may already have in other forms.
How to determine if you can actually sell your book once it's finished.
Which areas of the publishing process you can outsource, depending on your skills (and one you definitely should).
How to publish your book "on the cheap" and avoid the stigma of subsidy/vanity presses.
Numbers and acronyms you need to know about once you enter the wild and wooly world of self-publishing.
If you've got a book project you wish you could finish, join Susan Daffron and take your first step toward making that dream a reality.
Don't Follow the Herd: Enjoy Online Success Using Simple Tried and True Marketing Methods
The online world is full of confusing and often contradictory marketing information. In this teleseminar, you will learn how to separate the hype from tested tactics that actually work. You'll learn why:
Following the latest "techno-fad" or guru is almost always a bad idea.
It's more important to understand the business and marketing issues surrounding new technology than it is to understand the technology itself. (You really don't have to be a nerd or "techno-geek" to earn a decent living online!)
You should not take a "Chicken Little" approach and curtail online marketing in a down economy.
Certain "tried and true" online marketing methods work and the reasons why they work. (Hint: people are still people, and the Internet really hasn't changed that much!)
If you've been struggling to deal with online marketing overwhelm, join Susan Daffron for a teleseminar free of hype and techno-babble.