Many people are frustrated by the changes Microsoft made to the user interface
in XP. After years of using previous versions of Windows, to me XP looked like
it was designed for a visually impaired three year old. To put it nicely, I
felt the cutesy user interface got in the way of doing actual work.
So with that in mind, this article is my completely biased opinion on what
you need to do to make Windows XP usable. If your goal when using your computer
is to do work, in my opinion these changes can make you more productive.
1. Switch to Classic View
Like most computer-related problems, if you don't like something, there's probably
a way to change it. I found that the main key to making XP usable again was
to set it to use "classic view." To make this change, right-click
anywhere on your desktop and choose Properties. In the Themes tab, choose Windows
Classic from the drop-down list. You can also customize the colors and fonts
using settings on the Appearance tab. When you're done, click Apply and OK.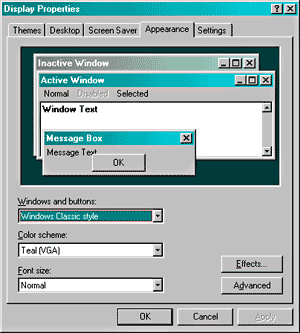 2. Customize the Start menu
You also can customize your Start menu, so it looks the way it used to in Win98.
Right-click the Start button and choose Properties. Click the Classic Start
menu radio button. For even finer control, click the Customize button.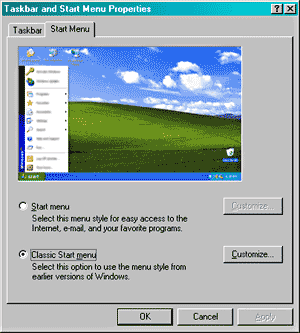 3. Lose Visual Effects
While you're at it, you can make XP seem a little more spry. I discovered that
by turning off the "visual effects" my computer seems faster. (Animation
is neat, but hey, I have stuff to do.) To remove all the effects, choose Start|Settings|Control
Panel|System. In the Advanced tab, under Performance, click the Settings button.
Click Adjust for best performance and click OK. Or you can select just the animation
you want. It's up to you.
4. Show File Extensions
Virtually every time I see a person who is having trouble with a new computer, most of the confusion stems from the fact that, by default, Microsoft does not show complete file names in the folder listings. It's supposed to make things easier but it doesn't because you aren't getting to see the actual file name. I've talked about this in earlier versions of Windows, but the problem continues with Windows XP.
On any Windows computer, whether you realize it or not, the files ALL have an "extension." The extension is usually three letters and appears after a period at the end of the file name. You may see "My Really Cool Report" as the file name, but your computer knows it as "My Really Cool Report.doc".  The .doc at the end tells the computer that it is a Microsoft Word file. Every program appends an extension at the end of the file name.
To show file extensions in XP, go into My Computer or Windows Explorer and choose Tools|Folder Options. In the View tab, remove the checkmark next to Hide extensions for known file types. And if you prefer the way Windows 98 folders worked, here's your chance to change XP. In the General tab, click Use Windows Classic folders.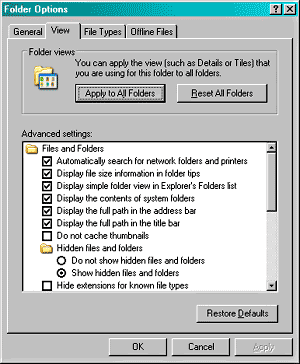 5. Turn off the dopey search character
On any computer, sooner or later you'll have to search for a file. In earlier versions, you had to go into Windows Explorer, but in XP the tool is right on the Start menu. You choose Start|Search|For Files and Folders.  And, imagine my surprise, when an animated dog appeared – hey look, it's my new "search companion." (Oh spare me!)
To lose the dog, click Change Preferences at the bottom of the Search box.
Then click Without an animated screen character. The dog goes away. (Bye bye
little doggie!) Click Back to return to the main Search page.