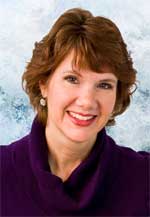 Kelly Epperson  is an author, speaker and happiness coach, but I call her the "Joy Fairy."
I've been a subscriber to Kelly's "Live Your Joy" ezine for years and she has subscribed to at least one of my newsletters. Although we have known each other for quite a while online, we've never met in person. Sooner or later, I hope that will change. Every time Kelly announces one of her Joy trips in her newsletter, I think, "Wow, cool I'd like to go to Italy, or Alaska (or wherever)." So far it hasn't been in the cards, but maybe someday!
Over the years, I've watched Kelly achieve amazing things. Although when I met her, she was mostly doing freelance writing and ghostwriting, these days, she's busy presenting keynotes, programs, and workshops on humor and happiness to a wide variety of corporate, private, and philanthropic groups. She speaks at many conferences and events including the most recent AATH Association for Applied and Therapeutic Humor National Conference.
Kelly is also the creator of the JOY Beyond Your Dreams Life Mastery Program, which is an online mentorship program that teaches women how to flourish (and have fun) in their personal and professional lives.
Here are Kelly's answers to my interview questions.
Why did you want to write and/or publish a book? How did you know it was the right time?
Life is a journey! I started out working for the IRS and then taught English as a Second Language and then moved to France for a year. I'd been writing a weekly newspaper humor column since 2001, and it was the year in France that prompted me to pursue writing as a full time career when I moved back.
I began ghostwriting books for others, and I wanted "my own" book. My first book is a collection of my columns, When Life Stinks, It's Time to Wash the Gym Clothes.
How long did it take?
My books sat in the idea stage much longer than it took to physically write them. For those who want to publish, they just need to pull the trigger and do it.
How did you opt to publish and why?
Self-publishing works for me because the timeline is so much quicker, and the control and the profits stay right here. With my speaking, and the online world, it only makes sense to self-publish.
What challenges did you face?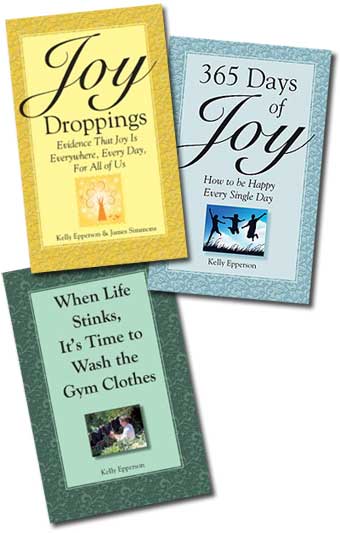 The biggest challenge for me is always perfectionism. I could tweak and re-tweak forever. Now I take imperfect action and get 'er done.
How did you decide on a topic?
The first book was an easy way to get started with books. My second book evolved from my speaking career – 365 Days of Joy: How to Be Happy Every Single Day. My third book is a compilation of joys that my readers have shared with me. Joy Droppings: Evidence That Joy is Everywhere, Every Day, For All of Us also includes my musings too.
What resources did you use and how were they beneficial?
The most valuable resources I discovered were Susan Daffron and her book Publishize. Susan did the interior layout and book covers for all my books. I am the Joy Fairy and she is the Book Fairy!
What were the results of your efforts?
Having books gives instant credibility. People who hire me to speak always introduce me as an author. (They love the former IRS agent part too!) Many organizations hire me to speak and buy my books for all attendees as well.
What would you do differently next time?
The one thing I would do differently is not be such a procrastinator!
About Kelly (The Official Bio)
Kelly Epperson, a former IRS agent now an agent of joy, is the founder of the Happiness Club of Loves Park and the author of When Life Stinks, It's Time to Wash the Gym Clothes; 365 Days of Joy – How to be Happy Every Single Day; and Joy Droppings, Evidence That Joy is Everywhere, Every Day, For All of Us; plus she has ghostwritten many books for others, including a New York Times best-seller that has sold over 3 million copies. Recent honors include being tapped as a judge for the Erma Bombeck National Essay Contest and the Women of Achievement YWCA Leaders 2011 Mentorship Award nomination for having had a major impact of the personal and professional development of women, and for teaching, guiding, and inspiring women in way that have changed their lives.
Kelly's Web site: http://kellyepperson.com/
Kelly's Books: http://kellyepperson.com/books/