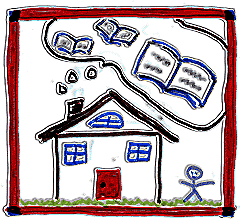 Many people have asked us what's involved in starting a "home publishing" company like ours. Realistically, starting a publishing business isn't particularly different than starting any other home-based business. The key is to remember that it is a business. If you think you'll just sit around and write all day, you're wrong. Self publishing books may involve creative aspects, but it is a business.
In our case, we already had a company: Logical Expressions, Inc. One of the joys of being self-employed is that you can shake up your business and change your focus and direction when you feel the need. In our case, we decided that we should take advantage of my publishing background and leverage our online marketing knowledge to sell books. I already had the editorial and layout skills, so we completely changed our business focus several years ago.
Unlike many businesses, publishing is an ideal home-based business. You don't have to have a printing press in your basement anymore. (And if you did, you might get in trouble with your town or city zoning laws, since printing is messy!) When you self-publish books or run a small home-based publishing company, you spend most of your time working on a computer. It's quiet and you don't bother the neighbors. In fact even after 13 years, most of our neighbors have little to no idea of what we actually do for a living. ("Well, they work from home…")
Before you start your home publishing business however, you need to answer some key questions.
1. How will you make money? If your answer is simply, "by selling books," you need to delve a lot deeper. Most books sell for about $20. You have to sell a lot of books to even keep yourself in ramen noodles. Also, books take time to write. How will you eat while you are busy writing that best seller? How do you plan to sell the book after you've written it? Most small home publishing companies offer many other products and services beyond selling books. In our case, we offer layout, design, and consulting services and also sell a line of information products.
2. Who will pay you? You may write the greatest books or offer the greatest services in the world, but if they aren't things people will pay for, your business is doomed. You need to know who your market is, what they need, and how you can reach them. Just as you need to research the other books in a given marketplace before you write your own, when you start a business, you need to look at the larger picture to make sure you have a viable business idea. Doing research is vital.
3. How much will it cost? Book publishing is less expensive than it used to be, but that doesn't mean there aren't costs associated with operating a publishing business. I spend a disturbing amount of money on software, for example. ISBNs and printing cost money too. Figure out what your start-up costs are, so you aren't surprised. Don't spend money on frivolous things. Be thrifty and look for bargains. Remember that one of the biggest advantages of a home-based business is the potential for low overhead.
Don't just "think" about the answers to these questions. You need to actually write them down. When we started Logical Expressions, I wrote a complete business plan. Obviously, it's obsolete now, but it was a good exercise. Numbers don't lie, and nothing happens without a plan.
These questions just scratch the surface of a huge topic. If you are interested in starting a small home publishing business, I encourage you to take advantage of low- or no-cost resources that are as close as your nearest library or adult education center. You also can get help from Small Business Development Centers (SBDCs), SCORE volunteers, and the Small Business Administration (SBA).