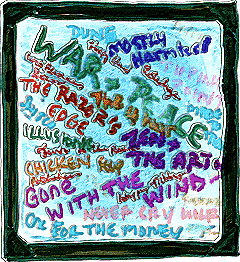 The title is one of the most important elements of your book. Books with boring or confusing titles don't sell. Presumably you want to sell your book, so you need to come up with a compelling book title that actually says what the book is about and who would want to read it.
When you stop and think about it, a book title is the ultimate headline. In copywriting, the headline is often called the most important part of the page. Many of the essential elements of a good headline also are part of non-fiction book titles that sell. Using the fewest words possible, with your title you want to arouse curiosity and yet also reveal the features and benefits that make your book different from the others on the shelf.
To get a few ideas of what sells, head over to Amazon.com and take a look at the best-selling non-fiction books. As of this writing, a few top sellers in business that have been on the non-fiction list for a while include:
Now consider why these titles work. You may notice they have a number of similarities.
1. Each title is made up of a title and subtitle. The title is between one and four words long. The subtitle is longer, more descriptive, and packed with benefits. Often it also specifies the audience for the book (such as those who want to join the "new rich," for example).
2. The title is the attention getter. Many successful titles make some type of promise. For example, the idea of a four-hour workweek (when many people work 60-100) is a mighty compelling promise. So is the notion of actually getting things done, if you're completely stressed out and overwhelmed.
3. The subtitle implies that secret or special information is contained within. Again, arousing curiosity is powerful. Your goal is to get someone to pick up the book and look inside. People who pick up Gladwell's book undoubtedly are wondering what "little things" could make a big difference.
4. Like headlines, a few "magic words" are often used in titles to good effect. That is why you see the same words in titles that you often see in headlines, such as "how to," "the secret to," "the art of," "you," "results," "amazing," "breakthrough," "revealed," and so forth. It's not a coincidence.
Crafting the perfect title for your book is part art and part science. But it is worth taking the time to create a title that really sells your book. Once you hit on a title that sounds good to you, bounce it off a few other people who are part of your target readership. If they simply say "that's nice," you need to try again. If they say, "I have to read that book!" you know you have a winner. Timothy Ferriss has said he actually tested his current title against several others using Pay Per Click. The title of his book is no accident. Yours shouldn't be either.