As the weather starts getting nicer again, pet owners should remember that with the advent of warmer weather, you need to take a few precautions to ensure the health of your favorite furry friend. First remember to never leave your pet alone in a vehicle. Even with the windows open, a parked car can heat up becoming a furnace that will kill your pet in minutes. Parking in the shade may seem like a good idea, but shade shifts throughout the day and that shady spot becomes a potentially fatal sunny spot. So either leave your pet at home or take them inside when they travel with you.
When you take Rover out for his walk, think about his comfort. If you are feeling hot, your dog probably is too. It's much better for your dog (and you) to exercise in the cool of the early morning or evening. In really hot weather, the asphalt can burn sensitive paws, since they aren't covered with shoes like your feet are. Dogs with short noses such as bulldogs, Pekingese, Boston terriers, and Lhasa apsos also tend to have special difficulties in the heat, so keep them inside during really hot weather. In the heat, it's also especially important for your pets have access to plenty of water at all times.
Avoid walking your dog in areas where pesticides have been sprayed. Make sure you keep your cat inside too. Animals are often killed or sickened by coming in contact with insecticides or poisons. Also check for antifreeze leaking from your car. It too is a potentially fatal poison. If you think your pet may have accidentally ingested a poisonous substance, contact your veterinarian immediately.
Most importantly, if you haven't already done so, put ID tags on your pets and get them "fixed." Spring is in the air and many pets are getting loose to go find a mate. The inevitable result is more lost pets and unwanted puppies and kittens. At this time of year, dogs also frequently jump out (or fall out) of vehicles and end up at the shelter. Don't let your pet become another homeless pet statistic: get an ID tag, microchip, or some form of ID on your pets ASAP.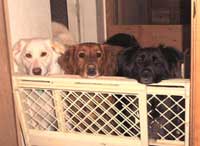 If it's really hot outside, just bring the dogs inside.