For those who don't know, not too long after I wrote about Dan Clune last week, a hunter found a body in the Pend Oreille River near Dover. Today, news reports said that medical examiners determined that it is Dan. Our thoughts are with his family at this sad time.
On a happier note, I think most of Sandpoint was out shopping this week. At least I know I wasn't the only one waiting until the last minute. One thing I like about shopping here is that, with the notable exception of the "big box store," you can get in and out of places quickly if that's what you want to do. I'm sort of a speed shopper in that normally, I don't dilly dally around. I usually know what I want, zoom in, find it, and get out. Even in a store like Merwins Hardware that stocks a lot of merchandise, finding what you want is still easy because nice folks are available to help you.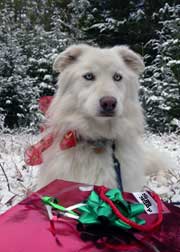 Speaking of Merwins, it's great to see places like Merwins and the Coop diversifying their product lines so they can better compete with the upcoming Home Depot. For example, I noticed that the Coop has dramatically expanded their selection of horse-related stuff. If I ever get that horse I've been wanting for Christmas since I was 12, I'll know just where to go for supplies.
All Logical Expressions online newsletters are going out a day early this week, so we can spend the holidays with our family.
Happy holidays everyone 😉