We've all heard the advice for a gazillion years: to make money on the Internet, you have to send out an email newsletter or ezine. It's good advice, and given that I send out three ezines myself, I certainly can't argue with it!
Keeping in contact with your existing and potential customers is always a good idea, but unfortunately getting email where it needs to go has become increasingly difficult. All the efforts being made to combat the endless rise in spam, phishing, and viruses have affected the ability for good emails to get through. Everything from personal and business correspondence to ecommerce has been affected. Not surprisingly, any type of large scale emailing activity, such as an ezine, is going to have the most problems getting through because of its outward resemblance to spam.
Even if you are using a service to send out your newsletters, it helps to understand a little about how email works. Then when problems arise with your newsletter delivery, you are better able to troubleshoot them.
The Mechanics of Email
Many people don't really understand what happens when you send and receive email. Your computer uses a modem or other device to connect with your Internet Service Provider (ISP) and connect to its Internet server. Ta da: you are now connected to the Internet!
When you tell your e-mail program to send and receive mail, it connects to the mail server specified in your configuration and transfers incoming and outgoing mail. The mail server may be the same machine you originally connected to, but it can just as easily be a different machine in another part of the world.
For example, I have a satellite Internet connection and a back up dial-up account that I use if the satellite has problems. Neither of these connections is related to my mail server at logicalexpressions.com, which is a completely different server on the Internet. To get my email, I need some type of ISP (satellite or dial-up) to connect to the Internet before I can retrieve my mail from the logicalexpressions.com domain.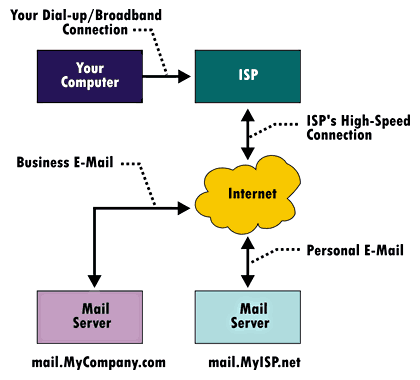 Mailing Lists
Mailing list software came about because it's extremely unwieldy to send a lot of emails from one email account. To be honest, I do know people who send out to large mailing lists using Microsoft Outlook, but the hoops they have to jump through to deal with subscribes and unsubscribes are nightmarish. I would never recommend it.
Instead of sending emails yourself, you can use list server software. For many years, we used an email list server that was hosted on our own domain to send out our newsletters. In other words, software on our mail server handled the subscribes and unsubscribes. We sent one newsletter email to a certain email address, which triggered the software to resend the newsletter out to all the subscriber names stored in the list server.
About six months ago, we switched to a "hosted" mailing service called AWeber. Now the subscribes and unsubscribes are actually handled by their servers, not ours.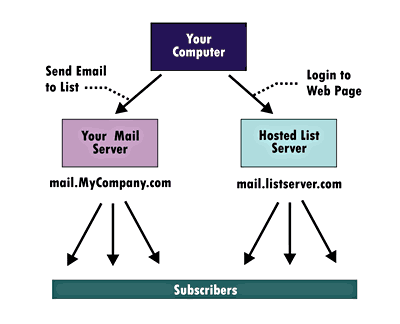 We used our own mail server for so many years for a couple of reasons. For one thing, it cost us basically nothing to host our own lists because the software came as part of our email package from our hosting company. Some hosted services charge by the number of emails you send out. Although this pricing scheme is somewhat less common now, it can get expensive quickly, especially if you send out your newsletters frequently. For example, if a company charges per email, and you have a list of 2,000 names that you send to weekly, the monthly charge is for 8,000 emails. (And we have three completely separate lists!)
The other thing that was nice was that for years, we established branding on our own LogicalExpressions.com mail domain. All the newsletters looked like they came right from us because they did. When we started doing our newsletters six years ago, if you used a hosted service, often there was no way to make it look like it was coming from you. I didn't want my newsletters to say something like List456@FreebieAutoresponder as the return address and basically be advertising someone else's service.
The other thing that I felt was risky is that back then the hosted list services I looked into didn't necessarily screen who was using their service particularly carefully. I didn't want to be associated with some slimy marketer who was sending out spammy stuff using the service.
Delivery Issues
So if hosting my own list was a good thing, now you might be wondering why did we finally switch to a hosted solution? The reality is that the Internet is a different place than it was six years ago when we innocently started up our first email newsletter. In the last year, it became increasingly difficult to get our emails through for a number of reasons. These problems could affect any hosted service unless they take steps to prevent it. Any GOOD list hosting service should know and understand these issues.
The first problem has to do with Domain Name Service, or DNS, which is the service that converts a domain name to an IP (Internet Protocol) address. The purpose of DNS is to resolve a user-friendly name into the IP address that is ultimately required for Internet communications. If DNS didn't exist, you'd have to use something like http://64.85.13.225 instead of http://www.LogicalExpressions.com to get to the Logical Expressions web site.
Any computer connected to the Internet finds your Web site or your mail server through DNS. Because all computers and services connected to the Internet are assigned an IP address, the IP address acts as their true unique identifier. A mail server has an IP address assigned to it and when you send email, many spam filters do what's called a "reverse DNS lookup" to determine if the email is really coming from where it says it is.
Not surprisingly, the reason reverse DNS lookup came about is because spammers "spoof" or forge return addresses. Verifying you are who you say you are by doing a reverse DNS lookup is one way that an ISP can get good email through and block the bad stuff.
If you administer your own mail server and the lists on it, you have to care about reverse DNS lookup. At an ISP, most mail servers are shared, and ours was no exception. When we had our own mail server, we had to make sure that the DNS for our mail server was mapped correctly to our domain name.
A somewhat more recent approach to authentication is called SPF or Sender Policy Framework. This is a special type of DNS entry that lists the IP addresses that can send mail from a domain. Not all ISPs check for it, but we added an SPF record to our mail server as well.
Guilt By Association
After that big foray into nerdiness, here's some bad news. You can have your DNS perfectly configured, get your SPF record set up, and still have problems. Enter the world of "blacklists," called CBLs (Composite Blocking Lists), and RBLs (Realtime Blackhole Lists). These types of lists basically compile IP addresses of those servers that have been used to send spam and viruses.
The problem is that these blacklists aren't very accurate, but ISPs use them anyway. If you're on a blacklist your email will be blocked. For example, our mail server was listed on the CBL (http://cbl.abuseat.org/) a couple of times, not because we sent spam, but because someone else sharing our mail server did something the CBL didn't like. Of course, the CBL never tells you what any of these "bad" things are, so you can run the most legitimate non-spammy opt-in list in the world and still end up on the CBL. The key to recognizing blacklist problems is to always pay attention to any undeliverable mail. Most lists are pretty consistent as far as the amount of undeliverable mail, so if you see anything out of the ordinary, you can be pretty sure something is wrong.
You can find out if your mail server has been blacklisted by going to the DNS Stuff site (http://www.dnsstuff.com) and typing in your mail server IP address. It will return a list indicating which blacklists include your mail server. If you suddenly get a phenomenal amount of bounces on your e-mail newsletters (like 20% or more) check DNS Stuff. To be removed, you have to go to the blacklist site and follow their procedure to get your IP address taken off the list.
Individual ISP Problems
After reading about SPF and CBLs and all that, you probably understand why we moved to a hosted mailing solution. I was sick of worrying about all that stuff every time I sent out a newsletter. Unfortunately, although our move to AWeber has been good, it's still not perfect. We have one unresolved issue that AWeber can't seem to figure out. We can't send newsletters to anyone at a particular local ISP, which interestingly happens to be the one I use for my dial-up account.
In the case of a hosted solution like AWeber, you basically create your newsletter using their web site and it is sent out through their mail servers, not your own. Your domain name is part of the return address, so the newsletter looks like it's coming from your domain, but it's really not. Because the emails are really going through the AWeber servers, they have to deal with things like SPF records and reverse DNS lookup.
On the one hand, that's good because AWeber has special agreements with large ISPs like America Online to let their emails through. On the other hand, in our case something has gone awry with our small local ISP. Because our potential subscribers from this ISP never get the confirmation email from AWeber, they can never double-opt in and join the list.
I sat on the phone with the local ISP tech support guy and listened while he attempted to sign up to one of our lists. He used a monitoring tool to watch his mail server, awaiting the confirmation email from AWeber that never showed up. However, AWeber tech support says that they see a record of the confirmation email LEAVING their mail servers.
So what's a person to do with this kind of information? Apparently, somewhere between AWeber and the local ISP is a big mysterious black hole that the confirmation emails are being sucked into. Somebody is blocking the mail somewhere, but given that email often travels across multiple servers to get to its destination, it could be anywhere between the AWeber and the local ISP.
In my case, for the time being, I just put a note on the subscribe form that those from that particular ISP need to use another email address. Maybe someday someone will help me figure it out, but until that day arrives, the message stays.
Individual ISP Delivery
As you can see, different ISPs present different deliverability issues, so you should listen to your subscribers (or potential subscribers) and pay attention to your statistics. If someone says, "I can't subscribe" don't just write them off as a dolt. There might be a real problem there. Or if you look at your list of "unconfirmed" subscribes and they're all from the same domain, that too undoubtedly indicates a problem that should be investigated.
Avoid Bad Words
When you write your ezine, you have probably realized that you need to consider your words carefully. If you yearn to write about Viagra, porn, or even seemingly innocuous things like credit issues, you may have trouble getting past the various content filters out there in cyberspace. Your emails will get blocked, not because of anything having to do with your mail server or hosting, but because of what you wrote.
Many hosted list services have some type of content checker built in. For example, AWeber has a SpamAssassin module that automatically checks your content as soon as you save your message. If you don't have it, you can use a free checker like this one from Lyris, which also uses SpamAssassin rules to determine how spammy your message looks to filters:
http://www.lyris.com/resources/contentchecker/
If you come up high on the scale, it's worth taking the time to rewrite the newsletter according to the recommendations.
The bottom line is that email deliverability issues aren't going away. In fact, they'll probably only get worse. America Online and Yahoo are now plotting "guaranteed" delivery options where you pay to get your email through. For small list owners like me, paying for delivery is not an option. For small list owners, education is our best defense. When you understand how email works, you can be as proactive as possible so your emails actually get where they are supposed to go.