Recently, I was given the opportunity to try out Xara Xtreme Pro. The disk has been sitting on my desk for a couple of weeks, waiting for me to finally get to writing my articles for this issue of Computor Companion.
Today our electricity went out. At some point, I realized that I could still use my laptop. (Hurray for battery power!) The press materials kept saying how fast Xara Xtreme is, even on less-than-powerful systems. Given that my laptop is a) not exactly new b) wasn't exactly a graphics powerhouse when it was new, I wasn't expecting much.
I was wrong.
I read through the help and goofed around a bit, but only after watching the videos did I really "get" what makes this program so cool. Because it has an uncluttered interface, at first I didn't realize all the extraordinary effects you can create on vector artwork. Although I do a lot of Web site graphics, I invariably start in a vector program and then bring it into Photoshop. I always have and still do prefer working in vector programs like Corel Draw. However, in the past there were a lot of things you just couldn't easily do in a vector program.
However, with Xara Xtreme Pro, you can basically skip the whole Photoshop part when it comes to Web graphics. Because the graphics remain editable as discrete objects in Xara, you no longer have to spend your life twiddling pixels to make changes. (Read: if the boss says, "we need to make all the buttons on the web site bigger" it's not going to take you all day to laboriously make that change.)
Transparency and Fill Effects
In fact, thanks to Xara Xtreme's transparency and fill controls, you can even make those cool gel buttons you see everywhere from just three objects. They involve graduated transparency, so objects can fade into one another. Basically, you draw a button, clone it, and click and drag to add the effect. Clone it again and add another effect.
Over the years, I've seen many examples of high-end computer illustrations from artists. I'm not a great artist; I'm just a lowly graphic designer. I thought about all the painstaking fills involved, how slow they are, and figured the drawings must have taken months to create. But because Xara is so fast and the transparency and fill effects are so powerful, suddenly a whole new world of artwork is available, even to people like me.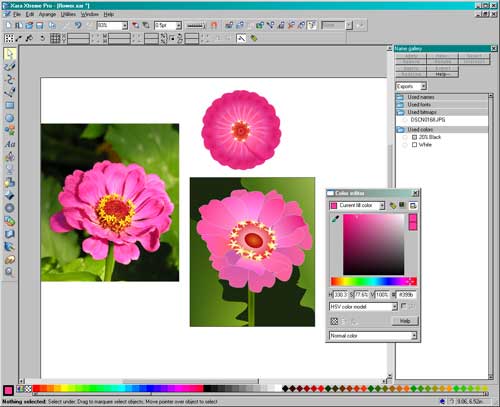 Adding complex fills is easy. You can pull colors directly from a photograph using the color picker.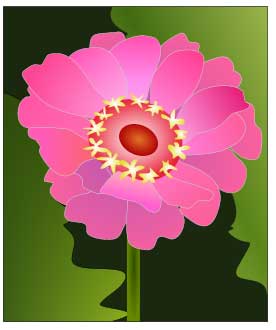 A close up of the "artistic rendering" of the zinnia. (Okay, I said I'm not a great artist.)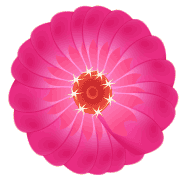 Goofing around with cloning and rotating.
Flash Without Fear
Flash animation is another thing I've avoided for years simply because of the learning curve on Adobe Flash itself. Again, Xara has a much easier way to create great animation effects. Rather than forcing you to deal with scripting or timelines, you create shapes, give them names, and tell them what to do (resize, change color, rotate, move, and so forth). Xara does the rest. It's obviously not as full featured as Flash, but for most of the animations you see all over the Web, it's perfect and so much easier than using Flash.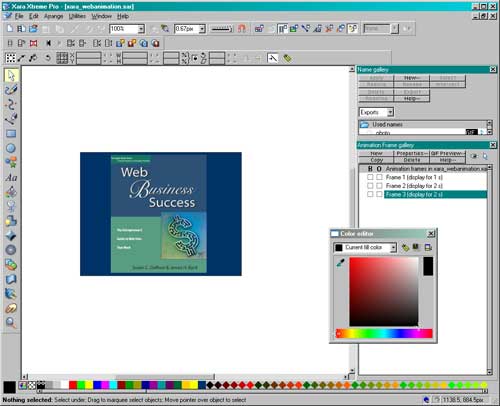 Creating an animation in Xara Xtreme Pro.
The finished animation. (If you don't see it in Internet Explorer, scroll to the top of the page and click Options, then "Allow blocked content.") Visit the Web site for Web Business Success book if you want to learn more about the book.
Have Fun!
The bottom line is that this program is just a ton of fun. I've only scratched the surface of some of its features. If you want to create easy animations or very cool graphics, at $199 Xara Xtreme Pro is a good deal. If you don't need Flash, you can get Xtreme (no Pro) for $79.You can get more details at the Xara web site.