When you live in snow country, you get a new appreciation for architecture. For example, this morning I grabbed a broom and swept off the snow that had blown onto our entryway. Before we remodeled the house and added this covered entrance, the snow fell on our front steps, and for many years, I had an unhealthy, adversarial relationship with our snow shovel. The day they pulled those horrible plywood stairs off the front of our house was a banner day. I was so excited, I ran inside and got the camera so we could take a picture of the horrible heap of wood that had been our front stairs.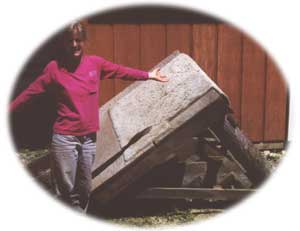 Our architect made a number of incredibly good suggestions (like the covered entryway) that took into account how the house would shed snow. After your eyes have been opened to that concept, you never look at houses the same way again. You might think that Sandpoint-area home construction would take the inevitable snow conditions into consideration, but surprisingly many houses aren't built with winter in mind.
For example, if you look at a lot of the property listings around here, you'll see houses with beautiful decks. As you look at the pictures, you dream about summer barbeques and relaxing outside. What a lot of people don't think about is how the roof is angled in relationship to the deck. In some cases, winter snows are going to shoot off the roof right onto that lovely deck, sometimes taking the railing with it. The snow piles up in front of your windows, causing months of darkness inside. Then in the springtime, you enjoy rotting deck planks as all that snow melts.
You also see houses with unusual roof designs that incorporate dormers and flat areas. Visually, it's stunning to look at and you think about how you'll be the envy your friends and neighbors. But what really happens in the wintertime is that your neighbors are inside snuggled up by a cozy fire, while you're outside shoveling your roof.
If you're in the market for a new home, now is probably a great time to look at real estate. You'll have a great opportunity to find what really happens when it snows. Assuming you can get in the door, of course.