Sometimes you need a logo right now. And sometimes you don't have the time or money to pay for a graphic designer to create one. When you have an "emergency" logo situation, the solution may be as simple as opening up a program like Word or PowerPoint. If you have a vector-based drawing program like Corel Draw or Adobe Illustrator, of course, those are better options, but in a pinch, any program that includes drawing tools will do.
The good news is that many of the most memorable logos are extremely simple. For example, the NBC stylized peacock isn't exactly a work of art, but it identifies the company, and if you're old enough you may remember that the colorful peacock also emphasized the fact that the network was broadcasting in color (as opposed to black and white). In addition to being memorable, another advantage to simple logos is that they can be reduced down to a small size or converted to black and white, and still be recognizable. Even if you don't consider yourself a great designer, try following these steps to create a simple logo:
1. Decide if you want a text or icon logo.
The reason it's easiest to use a drawing program for your logo is because generally you can size and scale the logo elements without losing quality. If you decide to create an iconic logo, you might start with a simple piece of royalty-free clip art that graphically expresses something to do with the business or project. You also can start with picture fonts, such as Wingdings, which have a character set that includes shapes that can work as a starting point for a logo. Use the Character Map program that comes with Windows to check out the characters in the picture fonts on your system.
Of course, not all logos have to include a picture. Consider IBM for example. Everyone knows what that company logo looks like and it's simply three letters. If you opt for a text-based logo, start with the company name, acronym or text that you plan to work with.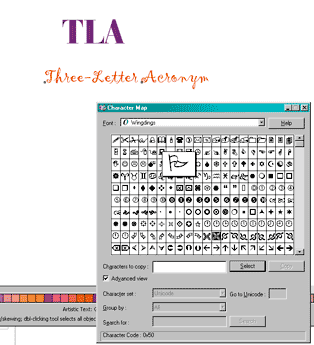 2. Break apart pictures or text into component parts
Import your clip art or type a character into your drawing program. Ungroup the clip art and determine how easy it is to make changes to it. Sometimes complex clip art graphics aren't worth the effort to try and modify, but simple clip art symbols often are easy to work with. If you use a font character, convert it to curves.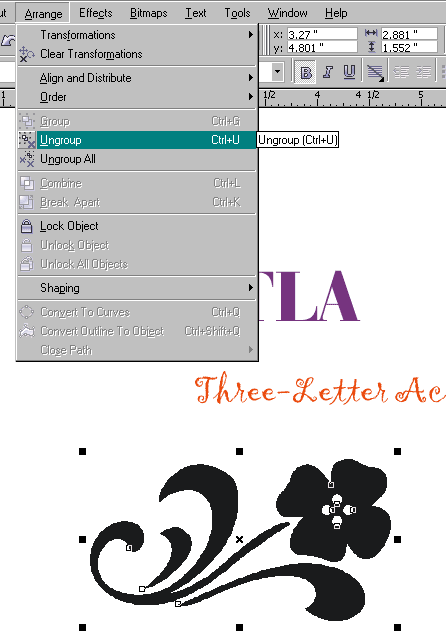 3. Look for connections in the letters or patterns in the graphics
Once you have your starting point, it's time to get creative. Try using some of the transformation features to convey a feeling. For example, skewing or slanting an image can convey movement. Try repeating a shape or element or reversing it out from a background. Don't forget that rotating, scaling, deleting, or changing the alignment of a particular element can have a big visual impact.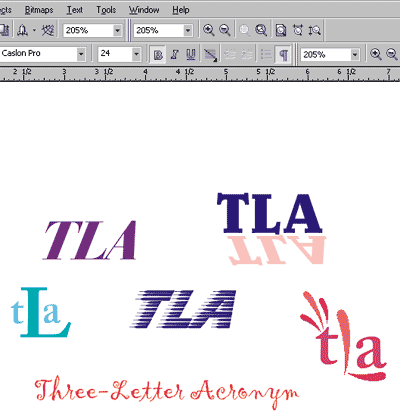 4. Use colors to evoke meaning
Changing colors of part of the logo can dramatically affect how it appears. Color can evoke emotion and meaning, so use it wisely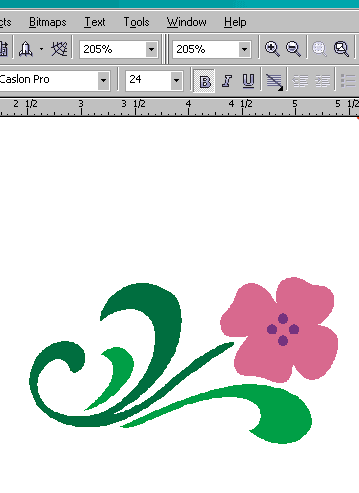 5. Transform elements and experiment
Keep experimenting until you find a pleasing arrangement. It can take a while, but with a little experimentation, you'll end up with a logo that works. (This logo is for a gift store that sells garden-related art, crafts, and gifts.)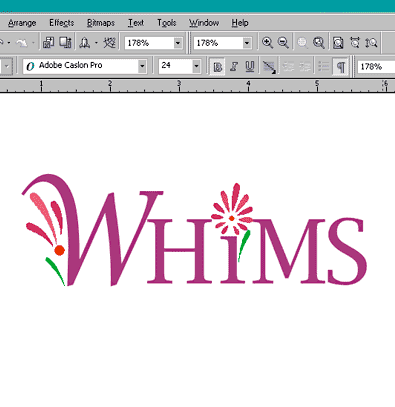 Have Fun!
With a little experimentation, you may find that creating logos isn't something to fear. You may not be a great designer, but non-artists can have fun playing with graphics too.