Update:
Treasure of the Hairy Cadre (Alpine Grove Romantic Comedy #8) is now available!
Coming soon!
The eighth book in my Alpine Grove series of romantic comedies is with beta readers now. It should be available before the end of the year, so I figured it's time for the big cover reveal.
Without further ado. here it is. It features Holly a very high-energy Australian Shepherd and Olivia, a resourceful tabby.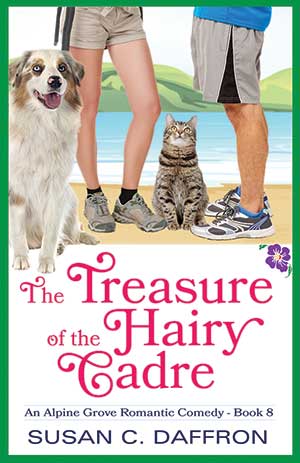 Here's the blurb, which is subject to change, but gives you an idea of the story. (Am I the only one who thinks writing blurbs is really hard?)
For elementary school teacher Sara Winston, being a camp counselor is the ideal summer job, if only she can pass the canoe test. As a former all-star athlete Sara knows she needs to practice, so she heads out on a solo excursion to hone her paddling skills. A sudden lightning storm drives her to shore, and while waiting out the deluge, she encounters a bedraggled man who is definitely not rainwater fresh.
Zack Flanagan looks like a soggy, sweaty pirate, so when he reveals stories of hidden treasure, Sara is convinced he's a harmless nut case. But when someone steals Sara's canoe leaving them stranded in a remote uninhabited area miles from anywhere, she considers the possibility that Zack might not be so crazy after all. Someone else might be after the treasure–and them.
Be the first to know!
If you're on my email list you'll be the first to know when it is release and get a discount. If you're not signed up, click here to be added to my New Releases List.