I'm finally doing a blog tour for my book Chez Stinky! It has been a long time coming. As some people know, I released the book right after my mother died, so I did exactly zero marketing for it. Now that my second novel Fuzzy Logic is out, I've created a marketing plan to finally let the world know my novels exist, starting with Chez Stinky. It's the first book in my series of romantic comedies set in the small town of Alpine Grove.
The book will be "on tour" from June 9 through July 7.  You also can register to win a $35 Amazon gift card. (I pasted in the Rafflecopter code at the bottom of the page, so scroll down if you want to play!)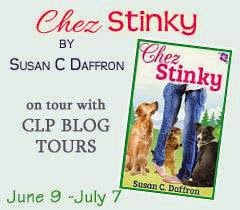 Big kudos to Samantha at CLP blog tours for organizing everything!
So without further ado, here are the stops on my blog. I'll update the links as they become available.
June 9 – Relatively Yours – Guest post from me called "Nerds Need Love Too" and an excerpt from the novel.
June 10 – Fiction Dreams – Guest post from me called "Dreaming my book"
June 11 – Reading in Black and White – Excerpt and a Review by Kelly McCurdy – 4.5 Kisses. "This is the first book that I have read by Susan. It isn't going to be the last. "
June 12 – Chick Lit Club Connect – Guest post from me, "The Power of Pets"
June 13 – Storm Goddess Book Reviews – Excerpt and a review by Nikki – 4 Lightning Bolts. "The story made me laugh, and pulled on my heartstrings.  There's so many feel good moments, but has it's emotional parts as well. "
June 17 – Novel Escapes – A "Would You Rather" Q&A with questions like "Chips, Chocolate or Cheese?" My answer: chocolate. (Okay, not a huge surprise there.)
June 19 – Samantha March – Q&A about how I write and an excerpt from the book
June 20 – Melissa's Mochas, Mysteries and Meows – Guest post called "The Cats of Chez Stinky."
June 24 – Melina's Book Blog – A guest post from me called "Postal Social Hour" and a review from Melina: "I love animals, so I really enjoyed this book.  I also like the characters in this story.  There was a little bit of drama and intrigue that made the book interesting."
June 26 – Chick Lit Plus – Review from Samantha. 4.5 stars  "The book was easy to get immersed in, and the characters of Chez Stinky are full of personality and so fun to read about…I found myself making excuses for why I just had to keep reading."
June 27 – Two Children and a Migraine – Excerpt, a guest post "15 Books that Stick with You" and a review from Jayda: "I stayed up well past my bedtime as I was truly intrigued by the characters. I really enjoyed the read and look forward to reading the next installment.  The charming yet descriptive use of words entangled me in their world."
July 1 – Ski-Wee's Book Corner – Excerpt
July 2  – Book Suburbia – Excerpt
July 3 – Steph the Bookworm – Review from Steph who says, "If you're a fan of chick lit or animals, two things that I personally love, then check this one out! I'd highly recommend it!"
July 7 – Jersey Girl Book Reviews – Excerpt, Guest post from me called "Stranger than Fiction" and a 4-star review from Kathleen Higgins-Anderson who says, "…the reader will easily find themselves laughing out loud as they turn the pages. "
A big thank you to all of the bloggers who participated!
Book Links
Social Media links
Enter to win a $35 gift card!