Susan Daffron is a frequent guest on radio shows and teleseminars. She speaks on topics related to humane work, adopted pet care, Web design, entrepreneurship, writing, and book publishing. (This page has a list of teleseminar and speaking topics.)
In 2013, the Humane Society of the United States invited Susan to speak during the EXPO 3-hour "intensive" workshops on the final day of the event. She presented "57 Ways Rescues Can Cut Costs and Save Money."
In 2012, Susan was invited back to speak at the No More Homeless Pets Conference in Las Vegas about "Big Fundraising Ideas for Small Rescues."
In 2011, Susan was invited to speak at the BlogPaws pet bloggers conference in Tyson's Corner, Virginia. She spoke about self-publishing with two other publishing experts.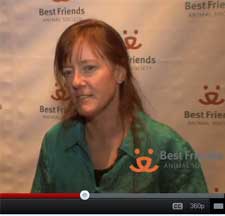 In 2009, Susan was invited to speak at the No More Homeless Pets Conference in Las Vegas that is put on by Best Friends Animal Society.
She presented a workshop called "The 7 Habits of Highly Effective Fundraisers" which was based on information in her book Funds to the Rescue: 101 Fundraising Ideas for Humane and Animal Rescue Groups. Comments from Susan were included in the closing video at the conference (about 2 minutes in).
Petfinder.com also joined forces with Best Friends to offer free "preview" Webinars, including two from Susan on the 7 Habits of Highly Effective Fundraisers
Experience
Susan is a veteran of many teleseminars and podcasts. She has hosted/created:
Organizer, host, and presenter of the Self-Publishers Online Conference (SPOC).
Online radio show called Take Me Home for Pet Life Radio (Use the widget at right to check out recent shows.)
Teleseminars with humane experts for members of the National Association of Pet Rescue Professionals.
Teleseminars with publishing experts for the Small Publishers Artists and Writer's Network (SPAWN).
90 Day Book Challenge
A few of the groups Susan has spoken for include:
Blog Paws (Pet Blogger Conference) where people said:

Very well prepared – very organized
Very insightful into all aspects – very inspirational
Great and helpful session!

Pepsi Refresh Pet-Related Grantees
Best Friends/No More Homeless Pets Conference where people said:

"Very creative ideas that I'm going to steal"
"Great methodology and ideas; gained road map and value plan to replace our hap hazard approach"
"Excellent and entertaining"
"Great info. These are strategies that can be used immediately"
"Great speaker"
"Excellent speaker. Very Interesting and great content"
"Susan was fun and had good ideas"

Published & Profitable with Roger C. Parker
International Freelancers Academy with Ed Gandia
Third Tribe Marketing (Copyblogger Media)
Beyond the Book with Chris Kenneally
Doggie Chronicles Radio Show
Steve Dale's Pet radio show
Work Matters with Nan Russell
Jim Kukral Geekcast Podcast
Marketing Expert Marcia Yudkin
Unchained Entrepreneur
Customer Love
Dog Cast Radio
Virtual Women's Network
National Association of Women Writers
National Association of Memoir Writers
AM800 CKLW Radio
Scorpion Equinox Radio Show
My Big Business Card/Publish to Profits Expert
Product Sellers Seminar
Association of Web Entrepreneurs
Women's Ecommerce Association
This page has a list of teleseminar and speaking topics.