On Monday, I'm sending the fourth Alpine Grove Romantic Comedy, Snow Furries off to my editor. I've been working on the cover off and on and now it's done. The book features an awesome Bernese Mountain Dog named Frank and a shepherd mix named Mona, and as with all my covers, the critters get center stage.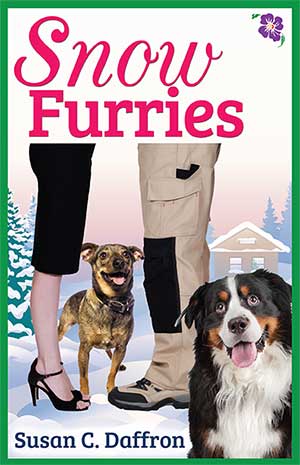 Here's the description from the back cover.
After a life-altering setback destroys Rebecca Mackenzie's career, she jumps at the chance to start over as a real estate appraisal trainee in her uncle's office. Although a job change had been in order, being the new kid did have some downsides, including being forced to do a rush appraisal in the small town of Alpine Grove over Thanksgiving weekend.
Although map reading has never been her strong suit, Becca's navigational skills are pushed to the limit in a town that doesn't believe in road signs. When the supposed-to-be flurries turn out to be a record-setting blizzard, the trip literally goes downhill after Becca's car slides nose-down off the road into a ditch. Accompanied by his huge mountain dog, a scruffy stranger wearing a massive coat with dozens of pockets drags Becca to safety. In the darkness of a small log cabin in the woods, Becca confesses far too many secrets to Jack Sheridan. Sure, if she'd known she'd end up trapped in the middle of nowhere with a guy named Jack, she never would have watched that scary movie. But maybe Jack isn't such a dull boy after all.